Operation Home Front helps women veterans heal
With a focus on helping women veterans heal and readapt to civilian life with family ties intact, Operation Home Front supports women returning from Iraq and Afghanistan.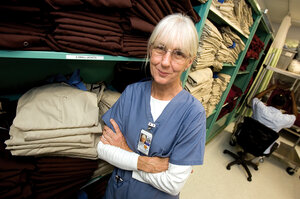 Molly Dempsey/Special to the Christian Science Monitor
For 15 years, there did not seem to be light at the end of the tunnel for US Navy veteran Lou Ann McPaul.
She was addicted to alcohol and drugs, but she pretended to others that she didn't have a problem – even when she was not properly there for her three children and when she was arrested for possession.
Today, things are different. The drug and alcohol problems are behind her, and she has a home and a job – all thanks to a program run by the Department of Veterans Affairs.
"I was so overwhelmed and amazed by the help that was available to me," she says.
With women now accounting for 14 percent of active-duty military personnel and 17 percent of the Reserve and National Guard, the need is increasing for programs specifically tailored for women, as the program for Ms. McPaul was. Yet health and welfare services for veterans have traditionally been male-oriented, and they've struggled to keep up with the military's changing face.
Anxious to start closing the gap, the VA and Florida's Department of Children and Families are jointly funding the creation of Operation Home Front. It's a $1.6 million transitional housing facility in Cocoa, where 28 women veterans at a time could reside while undergoing substance-abuse and mental-health programs.
In a unique twist, their children will be allowed to live there alongside them. That's something McPaul says she would have taken advantage of, had there been a rehabilitation program that accepted children back when she needed help.
"This will be the only facility of its kind in the state of Florida, if not the only one in the nation," says Todd Dixon, director of community affairs at the Center for Drug-Free Living, a behavioral health-services organization that will run Operation Home Front.
---