Ernie Harwell: Tigers legend, Michigan's beloved son
Ernie Harwell, who broadcast Detroit Tigers games for 42 years, passed away on Tuesday.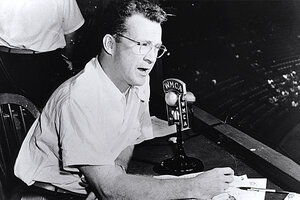 National Baseball Hall of Fame/AP
You know how you can tell when a person is from Michigan? If you ask them where they're from, they'll hold up their hand, like it was a map of the state, and point to their home town.
But today, you won't have to ask anything. It should be easy to spot Michiganders, because they'll be crying.
Ernie Harwell, the broadcasting voice of the Detroit Tigers for more than 40 years, passed away on Tuesday, at the age of 92. As many in the state have noted, Mr. Harwell quite possibly was the most beloved Michigander of all time.
This was due to more than just his rich voice, tinged with hints of his Georgia boyhood. True, Harwell was the soundtrack of summer for a place where summer is all too short. He was a link to the glory years, the 1968 and 1984 World Champions, and the exploits of such famous players as Denny McLain, Al Kaline, Mark Fidrych, and Kirk Gibson.
Mostly, he was nice, not just in a pleasant, surface way, but to the depths of his personality. If you look up "Harwell" in the Almighty's dictionary, the definition will be one word: "class."
---