New telescopes could revolutionize astronomy, but at what price?
The case for adding new ground-based telescopes is compelling, astronomy experts say. But they cost $700 million to $1 billion apiece just to build.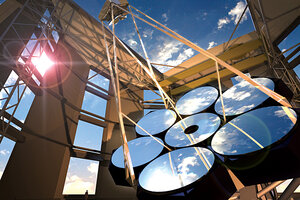 Giant Magellan Telescope/Carnegie Observatories
In a lab beneath the University of Arizona's football field, scientists are painstakingly polishing a glass disk nearly 28 feet across – the first of seven mirrors that, when combined to form an enormous optical telescope, would help revolutionize ground-based astronomy.
The telescope would reveal the universe's youngest stars and galaxies. It would analyze atmospheres surrounding planets orbiting other stars. In our own solar system, it would allow astronomers to explore frozen orbs far beyond the orbits of Neptune or Pluto in the so-called Kuiper Belt.
Nor is the Giant Magellan Telescope (GMT), supported by a US-led international group, alone. Another US-led, international consortium is moving forward this month on an even larger optical telescope, the Thirty Meter Telescope (TMT), atop Hawaii's Mauna Kea.
---