TBS touts Conan O'Brien for an Emmy -- for his work on NBC
TBS has started an Emmy campaign for Conan O'Brien in Variety magazine. But the ads are stumping for an NBC show – the defunct 'The Tonight Show with Conan O'Brien.'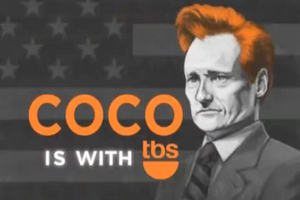 YouTube
Has cable network TBS lost its mind, or is it in fact a cunning TV genius?
Neither, probably, but the second might be closer to true. At least when it comes to Conan O'Brien.
TBS is taking what might be an unprecedented step: It is trying to help a show on another network win an Emmy.
There is, of course, a catch.
That show is NBC's "The Tonight Show with Conan O'Brien," which no longer exists, having reverted to its previous host, Jay Leno, in rather acrimonious circumstances. Mr. O'Brien, meanwhile, has made the switch to host a new late-night show on TBS.
And that's the genius of TBS's new ads in Variety magazine. They ask that Emmy voters consider O'Brien's version of "The Tonight Show" for an award.
---