'Anti-Islamic' bus ads appear in major cities
A group called 'Stop Islamization of America' is promoting ads on major city public transportation that urge people to leave the Muslim faith. The anti-Islamic campaign is sparking thought about the religion's place in American society.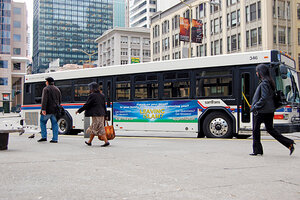 Stephanie Rice
The growing debate over Islam's place in America, which is escalating in light of plans to build a mosque near ground zero, is increasingly playing out on city streets across the country. On the sides of buses, to be precise.
Several groups are engaging in something of a religious ad war over the merits and misconceptions of Islam, a religion that remains a mystery to many Americans.
Ads by a group calling itself Stop Islamization of America, which aims to provide refuge for former Muslims, read: "Fatwa on your head? Is your family or community threatening you? Leaving Islam? Got questions? Get answers!"
IN PICTURES: Billboards around the world
Those ads, appearing on dozens of buses in the San Francisco Bay Area, Miami, and New York, are a response to ones from a Muslim group that say, "The way of life of Adam, Noah, Abraham, Moses, Jesus and Muhammad. Islam. Got questions? Get answers."
In New York, the Ahmadiyya Muslim Community sponsored this campaign: "Muslims for Peace. Love for All – Hatred for None."
The ads are part of a larger conversation over Islam's image, which Muslim organizations say has been hurt by extremists both at home and abroad. But many conservative groups say that concern about the spread of Islam isn't alarmist, pointing to evidence of imams in this country inciting militancy and a growing number of American Muslims arrested for plotting terror attacks.
---