Why 3D movies are falling flat this summer
'Avatar' may have paved the way for the next round of 3D movies, but few 3D films are finding success. Clumsy glasses, high prices, and soaring expectations are to blame, say industry experts.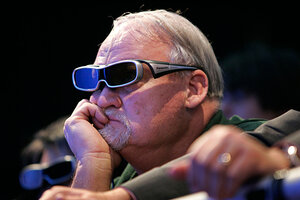 Steve Marcus/Reuters
The 3D backlash has begun.
Everyone from panels of top filmmakers at Comic-Con to the young moviegoers Hollywood most desires is giving the technology the thumbs-down.
The summer's top live-action hit, "Inception," is the work of a filmmaker who politely, but firmly, declines to shoot in 3D. So, say box office analysts, marketing pros, technology insiders and a range of moviegoers, for the moment at least, the bloom is off the 3D rose.
"It's becoming downright cool not to like 3D," says hollywood.com box office analyst Paul Dergarabedian. "We all knew this was coming because with all that hype, if something seems to be too good to be true, it usually is." The pullback is evident on both the creative and the moviegoing front, he adds. " I saw the Jon Favreau clip all over the Internet," he says referring to the director's comment that fans should go see his film, "Cowboys & Aliens" twice in regular 2D. "There are a number of big filmmakers who just don't want to use it," he points out, adding that moviegoers are watching their bottom line.
"Now that the ticket prices have broken $20, a lot of moviegoers just don't see the value of paying that much."
The antipathy goes beyond mere money for some. Duke University junior Zach Davis says he's "very anti-3D." The son of an actor and a casting agent, he says 3D "distracts from the narrative and makes it hard to follow the story." Most of his friends feel the same way, he says, noting that the clumsy glasses interfere with the social side of moviegoing. "The goggles cut off your peripheral vision and you can't bond with anyone you've come to the theater with."
---