A middle class thrift store: Only their retailer knows for sure
A thrift store chain attracts the middle class by redefining the secondhand experience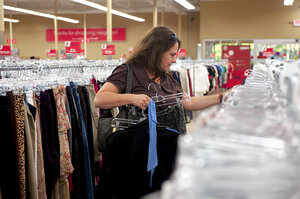 Joanne Ciccarello/Staff
At Savers, the wide, tiled aisles, color-coded clothing racks, and prominent corporate marketing slogan – "Thanks for shopping, neighbor!" – imply discount retail: maybe a Marshalls or T.J.Maxx.
But the occasional wrinkled blouse or exquisitely preserved, frumpy jumper – and most of all the prices – scream something else: thrift store. The thrift store – a nonprofit charity tradition for raising money and catering to the needy or the frugal – has gone upscale with the Savers national chain of for-profit outlets.
"This kind of store will change the way people look at thrift stores," suggests Sharon McLean, a nurse and mother of three who frequents the Savers store in this suburban-Boston shopping area. "Image is everything. There are more upscale customers here because of that."
Aaron Rubio, a Savers employee stocking shelves on a recent weekday, agrees, noting that his work environment here is not the usual "dark and gloomy" he associates with thrift shops: "It's always bright and clean."
Defying the stereotype works for Savers. Here in Framingham, just down the street from Target and around a corner from a high-end regional mall, Savers definitely has a retail vibe that blends in. But while most of its retail neighbors are still waiting for the reported "end of the recession" to actually hit their own registers, the Savers chain seems to be growing by focusing on a new secondhand-shopping demographic – the penny-wise middle-class shopper.
A working mom can unearth a gold mine in the Savers racks: On a recent day she could find top-quality Ann Taylor slacks priced at $9.99 for herself; and for her teenage daughter, a pair of trendy $8.99 Hollister jeans. She has a pick of sturdy family-room TV consoles all between $9.99 and $14.99. Colorful ties – sans spots – go for $1.99 apiece and an L.L. Bean men's fleece jacket is a steal at $16.99.
---