LAPD releases Grim Sleeper photos showing possible victims
Grim Sleeper photos released: for over 20 years, the LAPD had sought a Los Angeles serial killer, dubbed the Grim Sleeper. After arresting their prime suspect, Lonnie Franklin Jr., the department is sharing 180 photos of possible victims in the hope that the public will be able to identify some of them.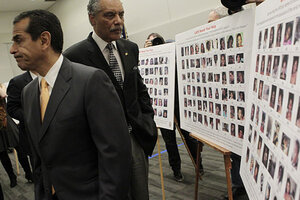 Jae C. Hong/AP
For over twenty years the LAPD was looking for a serial killer known as the Grim Sleeper, who police say is responsible for at least ten murders. In 1985, the first of many victims was found in an alley, having been shot three times. Ballistics and DNA tests later tied evidence from that killing to six other killings in Los Angeles.
Between 1988 and 2002, there were no similar murders reported, but when DNA evidence connected the 2002 murder of a 14-year old girl to the previous killings, the police realized the serial killer was still at large and active. When the LA Weekly heard about the 14-year lapse in killings, they dubbed him the Grim Sleeper.
In July, after DNA and ballistic detective work, the police arrested serial-killer suspect Lonnie Franklin Jr., who has pleaded not guilty. After months of sorting through evidence and trying to piece the puzzle together, investigators still didn't have a complete picture. In particular, the 14-year gap between 1988 and 2002 is largely unaccounted for, and police worry that Franklin may have committed more murders in those years.
IN PICTURES: Riots in Los Angeles after the NBA finals
Police Chief Charlie Beck asked for the public's assistance by saying, "We certainly do not believe that we are so lucky, or so good, as to know all his victims. We need the public's help." And the best way for the public to help is by helping to identify women in 180 photos.
---