Blizzard of 2010: Has global warming turned Americans into winter wimps?
The 'snowball express' blizzard of 2010 led to lots of public nail-biting and even the postponement of a pro football game. Perceptions about global warming have helped make Americans forget that, sometimes, winters bring a lot of snow, an expert suggests.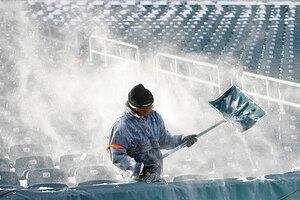 Tim Shaffer/Reuters
Maybe it was those warm, snow-bare years and the impression that global warming was in the process of turning Minneapolis into Miami, but what's with the hyperbolic national reaction to the "snowball express" winter storm of 2010?
The hand-wringing by news anchors up and down the East Coast was on Sunday compounded by the postponement – before a flake of snow had fallen – of the Philadelphia Eagles-Minnesota Vikings pro football game, causing Pennsylvania Gov. Ed Rendell to fume: "This is football; football is played in bad weather."
Yes, the early winter snow storm is a doozy, dropping Christmas snow on parts of the South for the first time since right after the Civil War and wrapping parts of the Northeast in nearly three feet of snow. Six states declared states of emergency and 4,000 flights were canceled. An A train in Queens got stuck and stranded 500 passengers for seven hours on Sunday.
But to some Americans, the hyperbolic reaction from some quarters – including city leaders in Philadelphia – seemed a bit, well, overwrought.
---