'Snooki' Polizzi? Nope. Try these 10 weirdest New Year's Eve celebrations.
'Snooki' Polizzi or a big Times Square ball? Please. How about a fish, a rodent, or an enormous roll of lunch meat? When these cities party on New Year's Eve, they get creative.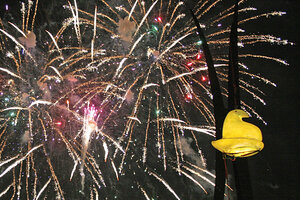 Newscom/file
So New York City drops a big silver ball in Times Square at Midnight.
Whoopdedoo, say a handful of cities across America.
Why not try dropping an item that has something to do with the local history or that is so confusing and intriguing that it gets people to search the history books? (Or at least the Internet.)
Like a giant Hershey's Kiss, says the city of Hershey, Pa., home to the chocolate manufacturer.
Or, playing on their town's nautical name, the über-celebration stylists of Shippensburg, Pa., will once again drop a giant anchor, punctuated by a laser light show when the anchor hits the ground.
Here are 10 other New Year's Eve festivities that put Times Square to shame and don't need reality TV-star Nicole "Snooki" Polizzi:
• Bethlehem, Pa., is the headquarters of Just Born Inc., the makers of those yellow, sugar-covered birds placed in Easter baskets alongside chocolate eggs. So they will be dropping a giant, candy replica of a "peep" that is 4-1/2 feet tall and five feet wide.
• Are you ready for Walleye Madness at Midnight? Port Clinton, Ohio, has been for 14 years. In the self-proclaimed walleye capital of the world, what else could fall from the sky but a 20-foot, 600-pound fiberglass walleye?
---