From rags to riches to rehab: Is there a lesson in Ted Williams story?
As Ted Williams, the 'man with the golden voice,' heads off to celebrity rehab in Los Angeles, his whirlwind rise and fall is a cautionary tale for corporations and media who fell in love with his story.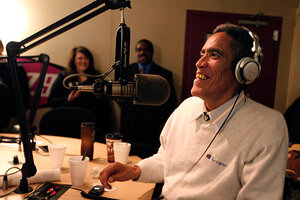 Doral Chenoweth III/Columbus Dispatch/AP
Ted Williams was the feel good story for the New Year – a down-on-his-luck, homeless man whose elegant announcer's voice, discovered in a viral video clip, gave him a second shot at midlife success.
Not only did he have multiple job offers, but Kraft took him on as a macaroni and cheese spokesman and a mortgage company offered to pay for a house.
But now, with the announcement that despite his claims of being clean and sober for two years, he has not mastered the drug and alcohol problem that put him on the street, he becomes just the latest celebrity – if newly minted – to enter a private rehab facility in Los Angeles.
Top 6 most triumphant stories of 2010
The course of action was disclosed in an interview with Dr. Phil McGraw on his syndicated talk show that aired Thursday. Mr. Williams' appearance on the show followed an altercation Monday with his daughter that involved the police.
The journey from panhandling on a Columbus, Ohio, street corner to media darling and now fellow resident-with-the stars in a private treatment center spanned less than two weeks.
---