Should the NBA be cut back to 24 teams?
Fans yearn for the glory days of great rivalries like the Boston Celtics vs. the Los Angeles Lakers. Critics of the current NBA say there just aren't enough great players to fill out 30 teams.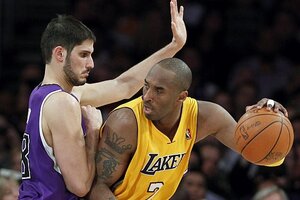 Lucy Nicholson/Reuters
Laker superstar Kobe Bryant passed NBA Hall of Famer Hakeem Olajawon in scoring to take eighth place among all-time NBA scorers Friday. But that's not the biggest news coming out of the two-time world championship Laker's hometown this weekend.
Jeannie Buss – the Lakers president, daughter of the most successful owner in sports history (Jerry Buss) and girlfriend of the most successful coach in NBA history (Phil Jackson) – has become the first team executive to openly call for a contraction of the NBA. Commissioner David Stern hinted at the idea last year and mega-uber court overlord LeBron James was severely criticized a month ago for suggesting as much.
The idea is controversial, counter-intuitive to some, and exactly what is needed say others.
"Leave it to Lakers president Jeanie Buss to step to the forefront and articulate a tough, difficult suggestion that just so happens to make absolute sense for the National Basketball Association as it enters a crucial labor stage and another crossroads in its 65-year history," writes Vincent Bonsignore, sports columnist for the L.A. Daily News. "We agree with her 100 percent."
Too many mediocre teams?
---