In Elizabeth Taylor, a remarkable blend of beauty and tenacity
Elizabeth Taylor's early roles featured only her beauty, but her career – and her fearless embrace of controversial issues – matured until she won three Oscars, including one for humanitarian work.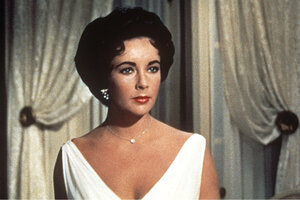 g90/ZUMA Press/Newscom/File
The violet-eyed grande dame of classic Hollywood, Dame Elizabeth Taylor died today in Los Angeles. The British-born child actor who landed her first studio contract at age 9, Ms. Taylor knew the power of beauty in a movie town from her earliest moments in the business. Those famously exotic eyes – framed by dark, double lashes – won her a film role over the objections of a studio production chief who said, "She can't sing, she can't dance, she can't perform."
But the years proved that beauty was only one of her many assets. After winning international acclaim at age 12 with her performance in "National Velvet," she went on to win two Academy Awards – one for her role as a call girl in "Butterfield 8," and the other as the biting Martha in the film adaptation of the Edward Albee play, "Who's Afraid of Virginia Woolf?"
"Taylor was always hampered by – shall we say – those who were overwhelmed by her remarkable beauty," says Louis Giannetti, emeritus professor of film at Case Western Reserve University and the author of two of the most widely-used film-studies textbooks, "Understanding Movies" on film and "Flashback" on the history of film. "She was actually quite a wonderful natural actress," he says, "with the natural ability from a very early age to tap into deep, and very real emotions."
---
Follow Stories Like This
Get the Monitor stories you care about delivered to your inbox.