It's in the stats: Red Sox will win 101 games
Baseball has just begun, but MIT economist Dimitris Bertsimas crunches numbers to conclude the Boston Red Sox will win the American League East title. Forget that they lost their first game.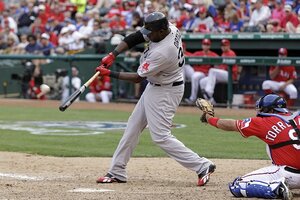 Tony Gutierrez/AP
If Dimitris Bertsimas is right, look for the Boston Red Sox to capture the American League East title in September, one game ahead of the Tampa Bay Rays, whose predicted wins would make them the team to beat for the AL Wild Card spot.
In a burst of post-preseason prognostication, the MIT economist has his favorite team, the Red Sox, finishing the regular season with 101 wins, followed by Tampa Bay with 100 wins, the Yankees at 93, Baltimore at 83 wins, and Toronto with 80.
The foundation for this stick-your-neck-out exercise is a modeling approach Bertsimas and colleague Allison O'Hair developed while pulling together a "you, too, can advise Theo Epstein" exercise for one of his classes.
10 bits of baseball history I learned from "A Game of Inches"
"I'm a big believer that quantitative analytics can have a major impact on businesses, including sports teams," Bertsimas notes.
Where British-born mathematician Keith Devlin has described baseball as looking "like rounders played by men in pajamas who seemed to wear very scratchy underpants that required constant adjustment and who had an unusual propensity for spitting," Bertsimas sees in each player "a vector of numbers" from which "we can make accurate predictions of how many runs they will score."
---