Maria Shriver and Arnold Schwarzenegger: A political odd couple that worked
Maria Shriver and Arnold Schwarzenegger announced their separation Monday. Despite being a prominent Democrat, Shriver was crucial to her Republican husband's political success.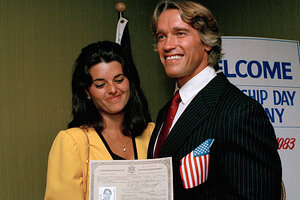 Wally Fong/AP/file
Less than six months after former California Gov. Arnold Schwarzenegger left office, he and his wife, Maria Shriver, have announced that they are separating after 25 years of marriage. The announcement, so soon after the end of Mr. Schwarzenegger's term, has led to retrospection on her crucial role in his rise to the governor's office as well as speculation as to whether she was fulfilling the role of the political "good wife."
From the beginning of their marriage in 1986, Ms. Shriver and Mr. Schwarzenegger were ribbed for being a political odd couple, because of Schwarzenegger's Republican leanings and Shriver's connection to one of America's Democratic family dynasties as daughter of the late Eunice Kennedy Shriver.
Now, after the separations of several high profile politicians, including John and Elizabeth Edwards, Al and Tipper Gore, and Mark and Jenny Sanford, there are questions about whether Shriver stayed with her husband to help him further – or not damage – his political career.
---