Little girls or little women? The Disney princess effect
In today's highly sexualized environment – where 5-year-olds wear padded bras – some see the toddlers-and-tiaras Disney princess craze leading to the pre-teen pursuit of "hot" looks. Do little girls become little women too soon?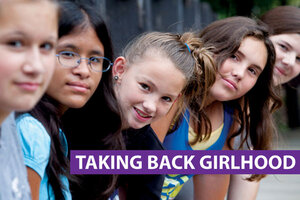 Melanie Stetson Freeman staff photo
A few years ago, Mary Finucane started noticing changes in the way her 3-year-old daughter played. The toddler had stopped running and jumping, and insisted on wearing only dresses. She sat on the front step quietly – waiting, she said, for her prince. She seemed less imaginative, less spunky, less interested in the world.
Ms. Finucane believes the shift began when Caoimhe (pronounced Keeva) discovered the Disney Princesses, that omnipresent, pastel packaged franchise of slender-waisted fairy-tale heroines. When Finucane mentioned her suspicions to other parents, they mostly shrugged.
"Everyone seemed to think it was inevitable," Finucane says. "You know, it was Disney Princesses from [ages] 2 to 5, then Hannah Montana, then 'High School Musical.' I thought it was so strange that these were the new trajectories of female childhood."
She decided to research the princess phenomenon, and what she found worried her. She came to believe that the $4 billion Disney Princess empire was the first step down a path to scarier challenges, from self-objectification to cyberbullying to unhealthy body images. Finucane, who has a background in play therapy, started a blog – "Disney Princess Recovery: Bringing Sexy Back for a Full Refund" – to chronicle her efforts to break the grip of Cinderella, Belle, Ariel, et al. on her household.
---