Scarlett Johansson cellphone pictures aren't all that smart phone hackers are after
As more and more corporate and personal business is done via mobile devices and social media, it is more than Scarlett Johansson cell phone pictures that are being hacked.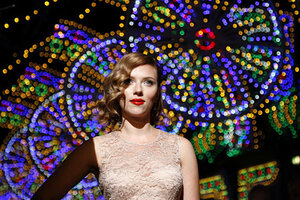 Alessandro Garofalo/ REUTERS
Cellphone hacking has had more than its 15 minutes of fame recently, from the London reporting scandal that shook Rupert Murdoch's media empire to the recent complaints from Hollywood celebrities Scarlett Johansson and Mila Kunis that private photos were stolen from their mobile hand-helds.
But these are not just isolated headlines, says former hacker Kevin Mahaffey, now chief technology officer for Lookout Mobile Security. The trend is accelerating quickly, he says.
"Just from January to June, the likelihood of a mobile malware attack has gone up 2-1/2 times," he says, citing a recently released study by his firm. Computing is moving from desktops to mobile devices, he says, and as it does, so will serious hacking activity.
Hacker Kevin Mitnick is eager to show how easily anyone can be hit.
"Give me your cellphone number," he says in an interview. Within seconds he has sent a spoof text message to my co-worker's cellphone, as if it were coming from my number.
It appears I am telling her, "Please go to this site, ASAP – stackoverflow.com."
This is a classic ruse, Mr. Mitnick says, pointing out that a malicious hacker would have inserted a booby-trapped website that could then mine passwords and other personal information from my friend.
---