Breastfeeding moms protest at Target stores, but US public is real mark
Lingering discomfort over public breastfeeding is responsible, in part, for curtailing moms' enthusiasm and driving down breastfeeding rates, research shows. Nurse-ins Wednesday at Target stores drew attention to the cause.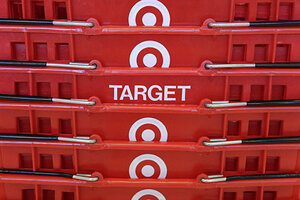 Charles Rex Arbogast/AP
For hundreds of moms who gathered in some 250 Target stores across the US on Wednesday, their decision to collectively breastfeed their babies in public was an act of solidarity, a reaffirmation of a natural right.
One of the largest such nurse-ins ever, the protests produced a few dirty glares, protesters reported. But overall, the largely convivial nurse-ins raised few eyebrows, as many women used blankets to cover their bare breasts and their nursing babies' heads.
Forty-five states protect mothers' rights to breastfeed in public, but the practice still stirs enough discomfort to dramatically curb breastfeeding rates, research shows.
In the United States, only 14 percent of moms are exclusively breastfeeding by the time their babies are six months old (though that's up from 10 percent in 2008), according to the Atlanta-based Centers for Disease Control and Prevention's National Breastfeeding Report Card 2011. Part of the reason, sociologists say, is that the nature of breastfeeding – lower fat content in mother's milk equals more frequent feedings – means that women who feel uncomfortable breastfeeding in public are less likely to sustain the practice over time.
With health officials increasingly emphasizing the importance of breastfeeding to children's well-being, resistance to it in public is becoming a public health concern, say many breastfeeding proponents.
---