Elin Nordegren, Tiger Woods' ex-wife, tears down $12 million mansion (+video)
Elin Nordegren had a 17,000-square-foot mansion in Florida leveled after paying $12.3 million to buy it. Elin Nordegren divorced Tiger Woods in 2010.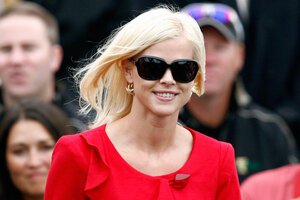 Matt Sullivan/Reuters/File
A fresh start?
Tiger Woods' ex-wife bought a $12.3 million oceanfront mansion in Florida and then bulldozed it. All 17,000 square feet. All eight bathrooms. All gone.
The house was built in 1932, and the lot is in the exclusive Seminole Landing development in North Palm Beach.
The 77-acre development is among the top five most exclusive communities in Palm Beach County, John True, owner of Oceanfront Realty in Juno Beach, Fla., told The Palm Beach Post. The gated community is also home to the Seminole Golf Club, the best golf course in Florida, according to Golf Digest magazine's 2011 rankings.
"I heard that the original plan was to renovate. But once they started, I heard they decided to tear it down," said True.
Nordegren divorced Tiger Woods in 2010 after evidence emerged he had affairs with a string of women during their five-year marriage. Nordegren reportedly received $110 million in the divorce settlement. And Nordegren has custody of the couple's two young children.
Tiger Woods recently completed renovations to his own 12-acre estate on Juniper Island, Florida. He reportedly paid $35 million in 2007 for the property and then spent an additional $15 million to add such features as a 6,400-square-foot gym/media room/bar, as well as an elevator, a reflecting pond, and a slim lap pool, according to Yahoo Sports. 
---