The games kids no longer play
Experts say the more creatively children play, the less lucrative it is for toy makers. They advocate returning to the games kids no longer play.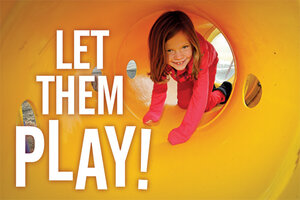 Photo: Tony Avelar/TCSM Illustration: John Kehe/Staff
Once upon a time, a typical gift for a child was a set of blocks. Plain old blocks with no batteries or screens, no electronic voice asking to be friends, no game of Angry Birds somehow embedded in their cubic walls.
No longer.
As anyone who braved toy stores this past holiday season knows, the bulk of gear for children these days is far more technologically decked out, with everything from flashing lights to 3-D computer screens to disembodied voices. And this, say child development experts, is turning into a massive problem.
High-stimuli toys, even many of those advertised as "educational" or "interactive," actually serve to diminish children's creativity, many experts say. Instead of using their minds to imagine how to use a toy – how to build a castle with blocks, say – they simply push a button or watch a flashing light. The toy is doing the work, which is the reverse of what researchers say is ideal.
"The best toy is 90 percent child and 10 percent toy," says Susan Linn, a Harvard University psychiatry instructor and cofounder of the Campaign for a Commercial-Free Childhood. "The [perfect] toy's meaning and its use changes at the child's behest."
At the same time, a large percentage of children's toys are based on media characters – Transformers, for instance, were top sellers this past holiday season. The problem with this, says Diane Levin, an education professor at Wheelock College in Boston, is that when a child plays with a toy that already has a character description, the play tends to be limited; the child doesn't invent the figure's personality or actions because those characteristics are already determined.
---