Video game nation: Why so many play
A journey through the world of video games, which 183 million Americans play – 25 percent over age 50. What's behind the fascination?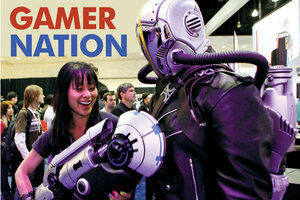 Danny Moloshok/File/REUTERS
We see it.
Gliding through the sky, long neck undulating, great, ridged wings beating, the dragon looks ... beautiful. Until it lands.
Thumbs working the controller, Matt Fries, a freshman at American University in Washington, D.C., throws fireballs at it with both hands. The dragon lifts off, and lands again. It belches out a stream of yellow and orange flame.
"He's done a lot of damage," Mr. Fries mutters. But it's early in the game.
As in video game. Sitting in his tiny Washington apartment, Fries is doing what millions – actually, 10 million – have done over the last few months: fighting dragons in the celebrated new game Skyrim.
Since its November release, Skyrim has won award after award and led reviewers to call it the "greatest role-playing video game ever made." In its first month, it made $650 million, almost double the entire year's gross in the United States for "Harry Potter and the Deathly Hallows: Part 2," the bestselling movie of 2011.
Gamers know this. Why don't you?
C'mon. You don't. One surprising thing about the video game industry is that while adults play – in fact, 25 percent of players are over age 50 – most are unaware of how prevalent it has become in American culture.
---