A Bush-era victory in culture wars: faith-based initiatives
Despite federal budget cuts, faith-based initiatives appear to be a Bush victor in the culture wars. Experts say its legacy is that it overcame the cultural resistance to using religious organizations as part of social service delivery.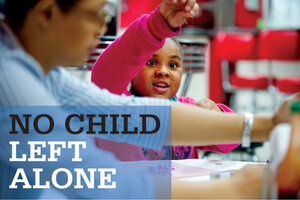 Ann Hermes / Staff
Federal budget cuts wiped out the $49 million Mentoring Children of Prisoners (MCP) program last September, effectively ending one of the signature domestic social service programs created under the George W. Bush administration's faith-based initiative.
But it's not the end of the Bush legacy of government partnerships with religious social service providers. Former President Bush's effort to make the social safety net more religious was one of the flash points of the culture wars that raged as he came to office in 2001: Funding religious groups well placed in communities to serve the needy was criticized for the potential for proselytizing and hiring bias using tax dollars.
Today, experts say the initiatives sparked more political debate than meaningful change to the social service landscape. Perhaps most important, the initiatives – carried forward in different ways by the Obama administration – "overcame the 'culture of resistance' " to such government-religious partnerships, noted a 2009 study of the program by the Nelson A. Rockefeller Institute of Government and the Roundtable on Religion and Social Welfare Policy.
---