'Phonehenge West' creator jailed: When folk art and building codes collide
The builder of a fantastical fortress in the Mojave Desert has been sentenced to jail for failing to pay for the demolition of his life's work. Why art isn't sacred in the eyes of code enforcers.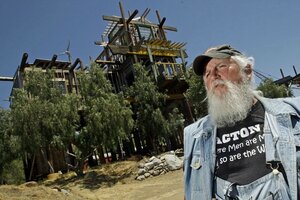 Reed Saxon/AP
The bearded builder of "Phonehenge West," a structure that became a famed piece of Mojave Desert folk art, is heading to jail after a Los Angeles County judge found he wasn't paying enough toward the demolition of the fortress.
Los Angeles County charged builder Alan Kimble "Kim" Fahey $82,000 last year to demolish the structure, which included a 70-foot tower, stained-glass windows, a working windmill, and a replica of a Viking house in Antelope Valley, some 50 miles north of Los Angeles. This week, L.A. County Superior Court Judge Daviann Mitchell sentenced him to 539 days in jail after raising doubts about his inability to make payments on the bill.
The judge's decision has sparked outrage among Fahey supporters, who claimed the structure should have been protected as a unique example of American folk art. But citing administrative law, most pointedly requirements that county residents get prior approval before embarking on massive building projects, code enforcers refused to budge, a jury backed them up, and the judge is set on enforcing the sentence.
Mr. Fahey's lawyer is working to get him released earlier. But the plight of Phonehenge West and its builder has reverberated across the country, not only for the questions it raises about the priorities of the code enforcement system, but also how it highlights the rare breed of building artists who ply their trade across the US – often, but not always – unmolested.
---