Manti Te'o girlfriend hoax: What deceit lurks in Internet's depths
Being pulled into a fake Internet romance is more common than you'd think. The Manti Te'o dead girlfriend hoax, where 'the love of his life' who died of cancer was a fake, shows how 'catfish' prey on trust.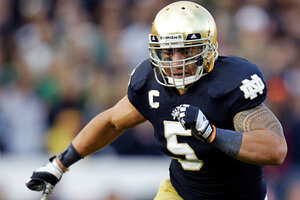 Michael Conroy/AP/File
The uproar over Notre Dame football star Manti Te'o's dead girlfriend hoax is certainly a commentary on how Internet anonymity ironically can breed trust, but it's also a cautionary tale about the sorts of Internet pretenders, or "catfish," who lurk in the turbid depths of digital waters.
The outcome of the Manti Te'o dead girlfriend hoax is far from conclusive, with questions still remaining if Mr. Te'o was either perpetrator or a victim (or, perhaps, both) of an elaborate, complex and multi-character fraud in which both his girlfriend, Lennay Kekua, and his grandmother died on the same day last September. The tragic tale became integral to the star linebacker's public story ahead of the Bowl Championship Series (BCS) title game.
But as the Internet site Deadspin discovered, nothing about "Lennay Kekua" was true, despite numerous heart-wrenching stories written about her "death" as part of the pre-BCS hagiographies for Te'o, the runner-up for the Heisman Trophy.
"Her funeral did not take place in Carson, Calif., and her casket was not closed at 9 a.m. exactly. She was not laid to rest. Lennay Kekua's last words to Manti Te'o were not 'I love you,' " Deadspin reported.
In fact, the girlfriend Te'o said he had visited never existed. Instead her identity has been tied to a male acquaintance named Ronaiah Tuiasosopo, a 22-year-old band leader at a church in Antelope Valley, Calif., and a member of a prominent NFL football family.
Mr. Tuiasosopo at one point had the picture used by the Lennay "catfish," which turned out to be a photo of a classmate who had nothing to do with the fraud. When confronted about using the image, BuzzFeed reports, Tuiasosopo "acted weird" and the picture disappeared off the Internet.
On Friday, ESPN quoted an unnamed friend of Te'o as saying that Tuiasosopo tearfully confessed to the hoax in early December, saying that at first he was just playing a "game" on Te'o but also acknowledging he had engaged in catfishing before.
---