Behind the falling US birthrate: too much student debt to afford kids?
The record-low birthrate in the US is showing no signs of bouncing back, even with the economy on the mend. Evidence is growing that huge student debt may be deterring people from starting families.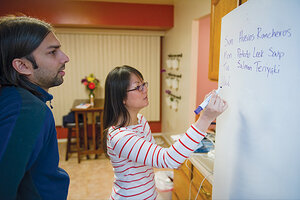 Ann Hermes/Staff
Karen Hu of Oakton, Va., is 28, married, graduated from law school – and thinking about babies. But that's as far as she and her husband, a software programmer, have gotten: just thinking. What's holding them back?
For one, Ms. Hu is finding it a challenge to land a good job in the post-recession economy.
For another, her student debt – some $164,000, with a monthly payment of $818 – is forcing the couple to think hard about taking on the additional expenses that come with having a child. "Children just don't fit into that scenario," Hu says.
Multiply that tale by tens of thousands of couples and you get the lowest birthrate in US history. American women of childbearing age are having babies at a rate of 63 per 1,000 women – nearly half the peak rate of the baby boom era of the 1950s, the Pew Research Center reported at the end of 2012.
No surprise, recessions typically coincide with a birthrate dip, as financial uncertainty prompts couples to postpone adding new mouths to feed. But the economy is recovering, and there's no sign yet that the birthrate is rebounding. Some analysts now wonder if the unprecedented scale of early indebtedness stemming from student loans, affecting nearly one-quarter of the overall US populace of childbearing age, has become a permanent deterrent to parenthood.
"This is something that we have not had during earlier recessions," says Chris Christopher, senior economist at IHS Global Insight, an international consulting group. If college costs keep rising and students continue to borrow heavily to pay for their education, the record-low birthrate may become the "new normal," he suggests. "This is a real monkey wrench in the works of our families and economy."
---