Drugs in sports: Who is winning the doping war?
As scientists close the gap on doping detection, athletes bent on cheating can still game the system. Stricter enforcement from league authorities is critical to redeeming sports scandalized by doping – cycling, baseball, and potentially the NFL.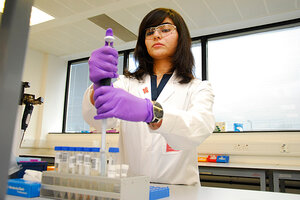 Reuters/File
January was a busy month for drugs in sport. First, cyclist Lance Armstrong admitted on national television to running what one antidoping agency called "the most sophisticated, professionalized, and successful doping program that sport has ever seen."
Two weeks later, news reports claimed that documents from a Florida clinic connected New York Yankees third baseman Alex Rodriguez to the use of performance-enhancing drugs (PEDs). Meanwhile, in New Orleans, Baltimore Ravens linebacker Ray Lewis was besieged by questions before the Super Bowl about "deer-antler spray" and whether he used illegal substances during his remarkable recovery from a serious arm injury.
Such allegations are common in the world of sports, and Rodriguez and Lewis have denied the reports. But recent weeks have pointed to how the fight against doping is evolving. Though science has made significant leaps forward in its ability to catch drug cheats, antidoping efforts are only as successful as the programs that enforce them. And if there is a lesson from the past decade, it is that from cycling to baseball, it takes a serious scandal and a threat to the very integrity of a sport to get officials to crack down.
---