Judge voids New York soda ban, calling it 'arbitrary and capricious'
The judge said New York's soda ban, which was set to take effect Tuesday, required city council approval and was arbitrary because some retailers, such as drugstores, were not affected by the ban.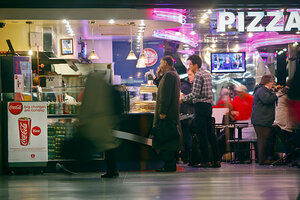 Bebeto Matthews/AP
Restaurants and lovers of sugary drinks have gotten a last-minute reprieve from New York Mayor Michael Bloomberg's controversial "soda ban," with a judge throwing out the measure one day before it was set to go into effect.
In a blow to Mayor Bloomberg and his public-health initiative, State Supreme Court justice Milton Tingling in Manhattan declared the ban invalid Monday, calling it "arbitrary and capricious."
The ban, which was advanced by the city's Board of Health, would have restricted the portion sizes of sugary drinks like sodas, sports drinks, and sweetened coffees to 16 ounces. City food establishments including dine-in and fast-food restaurants, mobile food carts, and delis would have been slapped with a $200 fine for serving sugary drinks in containers larger than that size beginning in June.
The American Beverage Association filed the lawsuit challenging the rule, calling it an illegal overreach that encroached on consumers' personal liberty.
"The court ruling provides a sigh of relief to New Yorkers and thousands of small businesses in New York City that would have been harmed by this arbitrary and unpopular ban," the association said in a statement. "With this ruling behind us, we look forward to collaborating with city leaders on solutions that will have a meaningful and lasting impact on the people of New York City."
A coalition of small-business organizations had asked the judge to delay the start date of the ban until the State Supreme Court ruled on the case. The delay wasn't necessary due to Judge Tingling's 11th-hour ruling, which said the soda ban required city council approval and was arbitrary in its application because some retailers – like convenience and drug stores – were not affected by the ban.
---