An American pope? What could help, or hinder, two cardinals' chances.
The US cardinals' experience dealing with the sex abuse crisis is seen alternately as a strength and a weakness. But other factors make any American a dark horse candidate to be the next pope.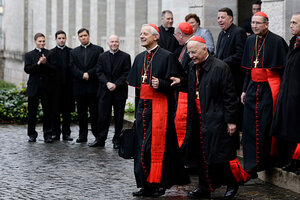 Alessandra Tarantino/AP
Americans were dark horse long shots, as usual, to become pope as cardinals closed the doors of the Vatican's Sistine Chapel Tuesday and began a conclave to choose a new holy father to guide the world's 1.2 billion Catholics.
This time around, however, observers say Americans bring a new wild-card factor in the form of unique experience handling fallout from the clergy sexual abuse crisis. That background could be either an asset or a liability, depending on how the 115 cardinal-electors inside the chapel view it.
At least two American cardinals seem to be in the running: New York Archbishop Timothy Dolan and Boston Archbishop Sean O'Malley. Both have won praise for their administering of large dioceses and confronting cultural trends. Cardinal O'Malley is particularly known for bold moves to help heal Boston, where the abuse crisis first came to light in 2002 and left deep wounds, including distrust of the Catholic hierarchy.
Addressing the abuse crisis on a global scale must be high on the agenda for the next pope, along with renewing evangelism and reforming the Roman Curia, the administrative apparatus of the Catholic Church, to decentralize power. That's according to Rev. Thomas Rausch, a Jesuit theologian at Loyola Marymount University in Los Angeles, who believes Americans might get serious consideration largely because they've done the most to troubleshoot sexual abuse.
---