'Veronica Mars' online campaign passes $2 million: What's Hollywood thinking?
'Veronica Mars' fans have contributed more than $2 million online in two days in hopes of turning the defunct TV show into a film. The campaign upends Hollywood's business-as-usual model.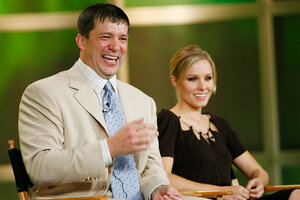 Lucas Jackson/AP/File
The ground moved in Neptune, Calif., this week.
If you missed it, well, that's understandable. Neptune, after all, is a fictional city, home to wily teen sleuth Veronica Mars, star of the TV show by the same name. The series was canceled in 2007 after only three seasons, though it had a devoted fan base.
Now, that loyal following has broken online fundraising records – raking in more than $1 million on the online funding site Kickstarter in just four hours and 24 minutes – for a proposed movie version of the TV show. The month-long campaign began Wednesday, and as of early Thursday it had surpassed its $2 million goal – and counting.
It is a watershed moment in the rapidly-evolving world of funding for new media, as the business model for Hollywood is starting to show signs of catching up with the fragmentation that "defines the media marketplace," says Robert Thompson, founder of the Bleier Center of Television and Popular culture at Syracuse University in New York.
"You can make a decent feature film for $4 million," he says.
The idea was cooked up by the series' creator, Rob Thomas, and the actress who played Veronica, Kristen Bell. Warner Bros., which still owns the rights to the show, reportedly agreed to kick in marketing and distribution costs if the team could meet its mark.
---