Abercrombie & Fitch: What's wrong with selling just to 'cool people'?
Abercrombie & Fitch CEO Mike Jeffries set off a cultural backlash when said that his company is primarily interested in 'good-looking people.' But the company is jealously guarding its brand, even as the market for plus-size teens grows.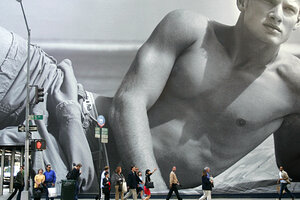 Kiichiro Sato/AP/File
Abercrombie & Fitch, one of the top sellers of young adult clothing in America, is again mired in controversy, this time over its refusal to offer plus-size clothes for teens.
The retailer, which operates 295 stores across the US, is the target of several online protests responding to comments made in a 2006 interview by its CEO, Mike Jeffries, who said he is primarily interested in marketing to "the cool kids" and "good-looking people."
"We go after the attractive all-American kid with a great attitude and a lot of friends. A lot of people don't belong [in our clothes], and they can't belong. Are we exclusionary? Absolutely. Those companies that are in trouble are trying to target everybody: young, old, fat, skinny. But then you become totally vanilla."
The remarks, which originally ran in Salon, were republished this month by Business Insider in a wider story about marketing to plus-size teenagers. The article title, "Abercrombie & Fitch refuses to make clothes for large women," didn't help soften things either.
Mr. Jeffries says the quotes were taken out of context. In a Facebook posting last week, he said that while he regretted his word choice and is "strongly committed to diversity and inclusion," his brand is "aspirational" in that "targets its marketing at a particular segment of customers."
This week, a spokesperson for the company told NBC News that, "we sincerely regret and apologize for any offense caused by comments we have made in the past which are contrary" to "diversity and inclusion."
Those gestures have not swayed critics who say the company is creating damaging images for teenagers both through its marketing images, which typically show svelte models in provocative poses, and its policy of not offering clothing for women above size 10.
---