Can this Chicago community be saved? Hope rises in Englewood.
In Englewood, a troubled neighborhood on Chicago's South Side, community engagement programs hint at a budding transformation. But some residents say it might take years for tangible changes to come to this 'cultural desert.'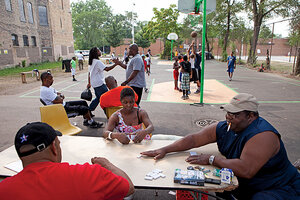 Melanie Stetson Freeman/Staff
In Ogden Park on a recent Saturday afternoon, children were playing, parents were chatting, food was cooking, and the music was pumping.
This might be a typical scene in summertime America. But it was no small matter in Greater Englewood – a poor neighborhood on Chicago's South Side that has been front and center in the city's struggles with a soaring homicide rate.
People turned out by the hundreds for the event, cohosted by the Chicago Park District and the Resident Association of Greater Englewood (R.A.G.E.). Many here said it is fostering a new, more positive energy on their streets.
"It's a good thing for Englewood," said Arlene Ray, who was at the event – one of four this summer – with her daughter and two grandsons. "Englewood is on the news all of the time. But violence is not the only thing going on here."
Long marginalized by geography – the neighborhood is cut off from the rest of the city by the eight-lane Dan Ryan Expressway and a sprawling industrial corridor – Greater Englewood has problems familiar to many impoverished communities: gang violence, population loss, a lack of jobs, school closings, the housing bust. The neighborhood has seen 43 homicides in the past year, primarily due to gang violence, police say. The horror of such violence was compounded on Sept. 19 when a gunman shot 13 people, including a 3-year-old boy, in the nearby neighborhood of Back of the Yards.
No doubt people have tried to improve Englewood's fortunes before. But this year, many have observed, things finally appear to be moving – not only because of several outside initiatives, but also because of effective activism among the neighborhood's residents. One sign of the new dynamics: the R.A.G.E. event in Ogden Park.
---