Javascript is disabled. Quiz scoring requires Javascript.
2011 US Open: It's time for tennis ... and a test
New York hosts the annual Grand Slam tennis finale, the US Open, Aug. 29-Sept. 11. Defending champions Rafael Nadal of Spain and Kim Clijsters of The Netherlands will be among the players looking to take home some of a record $23.7 million in prize money. Check your knowledge of the Open by taking this quiz.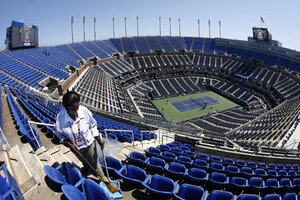 Peter Morgan/AP
1.

Before the US Open moved to New York's Flushing Meadow in 1978, where were the championships played?