Bradley Manning trial may include Navy SEAL from Osama bin Laden raid
(Read article summary)
Prosecutors charge Pfc. Bradley Manning with 'aiding the enemy' in leaking classified documents to WikiLeaks. They want to call as a witness a Navy SEAL involved in the Osama bin Laden raid.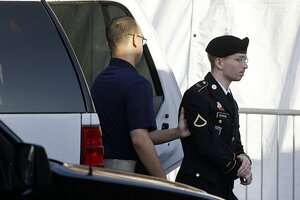 Patrick Semansky/AP
Of the 22 charges US Army Pfc. Bradley Manning faces for allegedly leaking classified information to the whistleblower website WikiLeaks, none is more serious than "aiding the enemy" in wartime.
Although military prosecutors could have sought the death penalty on this charge – which violates both the Espionage Act of 1917 and the Uniform Code of Military Justice (UCMJ) – they are pushing for a life sentence.
In a court-martial pretrial hearing Tuesday, Col. Denise Lind, the military judge in the case, ruled that the US government must prove that Manning knew he was aiding the enemy when he took steps to make public hundreds of thousands of Iraq and Afghanistan battlefield reports, State Department diplomatic cables, files on detainees at the Guantánamo Bay US naval base, other classified records, and battlefield video clips – the most controversial of which showed US attack helicopter pilots in Iraq killing what turned out to be a group of unarmed civilian men, including two journalists from the Reuters news agency.
---