Obama, like everyone, must face the tax man. Here are his numbers.
(Read article summary)
President Obama is wealthy, but his income has been dropping in recent years, mainly due to a decline in book revenues. In releasing his 2012 return, the White House again pushed for tax reform.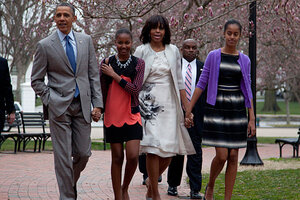 Carolyn Kaster/AP/File
One of the things you get to do as president of the United States is have the whole world (or at least the world of picky journalists) pore over your tax returns. Total income, the rate at which you're taxed, investment gains or losses, charitable contributions and other deductions – it's all there for the public to peruse.
Many of you (us) no doubt are sweating Monday's April 15 deadline when the IRS comes calling. But for the Obamas and the Bidens, the White House on Friday issued their tax returns early. Oh, goody! Let's take a look, shall we?
Bottom line: an adjusted gross income of $608,611 on which Barack and Michelle Obama – identified as "US President" and "US First Lady" – paid $112,214 in total tax for an effective federal income-tax rate of 18.4 percent.
At which point, White House press secretary Jay Carney, in releasing the 38-page filing, felt the need to note: "The president believes we must reform our tax system, which is why he has proposed policies like the Buffett Rule that would ask the wealthiest Americans to pay their fair share while protecting families making under $250,000 from seeing their taxes go up."
"Under the president's own tax proposals," Mr. Carney continued, "including limitations on the value of tax preferences for high-income households, he would pay more in taxes while ensuring we cut taxes for the middle class and those trying to get in it."
More details on the Obamas' tax filing:
---