Texas tornadoes: The missing are found, more storms possible
(Read article summary)
People missing after 16 tornadoes tore through north Texas on Wednesday have all been found alive, authorities report. As officials and residents assess the damage, they are keeping a wary eye on the weekend forecast.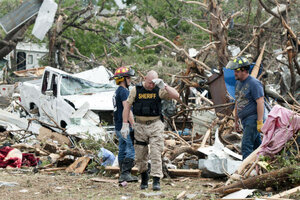 Rex C. Curry/AP
North Texas residents who were reported missing after an outbreak of severe tornadoes Wednesday have all been found alive.
Hood County Sheriff Roger Deeds said Friday that all missing people are accounted for, and the death toll is unlikely to rise above six adults.
Surveying the extensive destruction in Granbury, Texas, residents and volunteers say they are surprised that more people were not killed or seriously injured.
"The good Lord was busy [Wednesday] night," Red Cross volunteer Ray Fishercord told the Fort Worth Star-Telegram.
"Most of the homes had people in them when the tornado hit, and most of the people said they couldn't believe what happened. The American Legion Hall at the bottom of the hill looked like a triage scene from 'M*A*S*H.' "
An EF-4 category tornado hit Granbury, carrying winds of 166 to 200 m.p.h. and creating a path of destruction spanning 100 yards wide and a mile long. The highest tornado rating is an EF-5, which produces winds faster than 200 m.p.h.
Residents in the Rancho Brazos neighborhood – where more than 70 homes were damaged or destroyed – were evacuated, and authorities said it not clear when they will be able to survey the damage.
"I can't see them being able to get anyone in the area," said Hood County sheriff's spokesman Nathan Stringer. "That area is utterly devastated. I was in there for a couple of hours and I didn't see anything untouched. It was one big debris field."
Amanda Hernandez was at home with her husband and three children, but the warnings on TV didn't really worry her. The sirens went off about 15 minutes before the tornado hit, so the family hid in a closet.
---