Arizona wildfire prompts Congressional hearing on logging.The right focus?
(Read article summary)
The Yarnell Hill wildfire in Arizona is 45 percent contained. Next week, Congress will hold hearings on how to reduce wildfires through better forest management. Some see political opportunism for logging.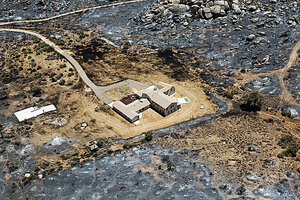 AP Photo/Tom Tingle
Congress is going to take a hard look at wildfires next week.
Two days after the planned memorial service for the 19 firefighters killed while battling the Yarnell Hill wildfire in Arizona, on July 11 the US House Natural Resources Subcommittee on Public Lands and Environmental Regulation has scheduled a hearing on how to reduce the risk of wildfires with better forest management.
"This week, Arizona experienced the most tragic wildfire in state history when we lost 19 brave firefighters to the Yarnell Fire," said Rep. Paul Gosar, (R) of Arizona, according to the Arizona Republic. "We owe these men our everlasting thanks and we owe their families a commitment to pursue pro-active forest management policies, which will minimize catastrophic wildfires in the future, while protecting our communities and restoring the environment. This hearing helps the committee's efforts to achieve these goals."
While these are worthy goals, some see this as political opportunism aimed at helping the American logging industry. In an opinion piece in the Los Angeles Times, Karin Klein criticizes the motives of the hearings:
---