Joey Chestnut triumphs, again, at Nathan's annual hot dog pig-out
(Read article summary)
Joey Chestnut, aka 'Jaws,' a seven-time winner (a record), maxes out at 69 hot dogs in 10 minutes (another record). In the women's competition, Sonya Thomas, at 36-3/4 dogs, edged out the No. 2 by a bite.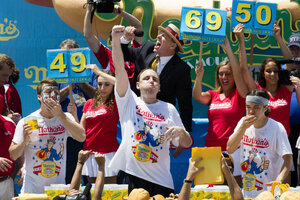 John Minchillo/AP
You don't want to mess with Joey "Jaws" Chestnut or Sonya "the Black Widow" Thomas.
Mr. Chestnut, of San Jose, Calif., devoured 69 hot dogs in 10 minutes to break two records at the Nathan's Famous Fourth of July Hot Dog Eating Contest Thursday.
His bested his previous record of 68 hot dogs in 2009 and won the contest for the unprecedented seventh time in a row.
Sonya Thomas, a slim, 100-pound manager of a fast-food restaurant in Alexandria, Va., battled frank-for-frank with Juliet Lee in the women's competition. Ms. Thomas, known as "the Black Widow" of competitive eating, downed 36-3/4 hot dogs to her competitor's 36 hot dogs. (Read more about Sonya, "the Black Widow," in a Monitor feature article here.)
Second-place finisher in the men's competition was Matt Stonie, who ate 51 hot dogs.
Chestnut said after the competition that he's motivated by the prestige, not the $10,000 prize money. 
''I'd do this for nothing,'' he said.
Chestnut may have received a boost from his girlfriend, too, who stood in front of him and yelled at him to eat more, according to USA Today. 
Thomas won $5,000 for the women's competition and defended her titles from 2012 and '11. Last year, she set the women's record by gobbling 45 hot dogs.
"It's more mental than physical," Thomas said, before the event this year. ''I have to fight with myself, so I'm going to try to really focus."
Chestnut's goal for the day was to "eat a little more gracefully, conserve my energy.''
The competition, hosted by Nathan's Hot Dogs in Coney Island, N.Y., every Fourth of July since 1916, attracted a crowd of about 40,000 spectators. It's broadcast live on ESPN and open to anyone at least 18 years old who wins a qualifying competition held in 12 cities across the country between March and June.
Ginger Perry of Obion County, Tenn., said she and her family planned their New York City vacation around the contest, after watching it on TV in past years and were impressed that Coney Island has recovered so well from being slammed by superstorm Sandy last October. ''It's amazing to be here and that they rebuilt so quickly,'' she said. 
The hot dog contest took place despite concerns about a swaying, shuttered observation tower that spurred the closure of parts of the nearby amusement park. The shutdown didn't affect Nathan's, but Coney Island's famous Cyclone roller coaster and other rides were closed, and workers were using a crane to dismantle the tower.
Nathan's Famous notes on the competition's website that the event is overseen by "Major League Eating, the governing body of all stomach-centric sports […] and ensures the contests are judged professionally and that safety standards are in place at each event."
On its website, Major League Eating issues a warning that it "strongly opposes and discourages home training of any kind. MLE also strongly discourages younger individuals from eating for speed or quantity under any circumstances. MLE urges all interested parties to become involved in sanctioned events – do not try speed eating [at] home."
The next Major League Eating contest is the World Slugburger Eating Championship in Corinth, Miss., on July 13. There, contestants will eat chow down on the hometown famous "slugburgers": burgers made of beef and breading deep-fried to a golden brown. The winner will claim a $3,000 prize. 
Material from the Associated Press was used in this report. 
---