California to allow driver's licenses for illegal immigrants
(Read article summary)
In promising to sign the bill allowing illegal immigrants driver's licenses, California Gov. Brown said he hoped it would 'send a message to Washington that immigration reform is long past due.'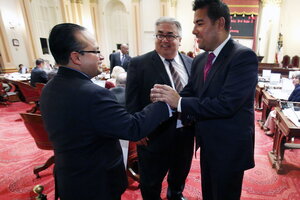 Rich Pedroncelli/ AP Photo
Reversing course, California Gov. Jerry Brown said early Friday he would sign a bill into law that allows illegal immigrants to obtain a state driver's license.
After last-minute changes to Assembly Bill 60 (AB-60), the California Senate and Assembly voted to pass the bill late Thursday night.
"This bill will enable millions of people to get to work safely and legally," Governor Brown said in a statement issued after midnight following the passage of AB-60. "Hopefully it will send a message to Washington that immigration reform is long past due."
California has the largest immigrant population in the United States, and a recent study from the University of California's Center for the Study of Immigrant Integration estimates that about 7 percent of California residents – more than 2.6 million people – are in the country illegally.
Nine states and the District of Columbia currently issue illegal immigrants driver's licenses. Federal law requires that the licenses clearly indicate that the driver is undocumented.
Under AB-60, the licenses would have the initials DP (driver's privilege), rather than DL (driver's license), and would state that the document "does not establish eligibility for employment or public benefit." California's Department of Motor Vehicles will determine what type of documentation will be required to obtain a driver's license.
---