Silk Road 101: How did the now-busted online black market work? (+video)
(Read article summary)
Federal authorities have shut down Silk Road, one of the largest websites for drug trafficking and other criminal activities. The site existed under layers of secrecy and used electronic currency.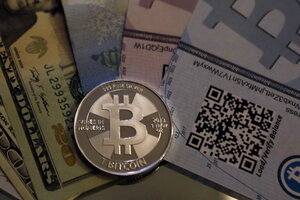 Jim Urquhart/ Reuters/ File
Silk Road, a notorious website for drug trafficking and other criminal activities, has been shut down after its alleged operator, Ross Ulbricht, was arrested Tuesday, the Federal Bureau of Investigation announced. Federal prosecutors have charged Mr. Ulbricht with narcotics trafficking, computer hacking, money laundering, and the solicitation of a murder-for-hire.
How did this black market work, and how did it escape law enforcement for a time? Here are the basics about this so-called eBay of illegal drugs.
What was Silk Road?
Silk Road was an online marketplace that allowed buyers and sellers to conduct all their transactions anonymously. In addition to the cost of goods or services purchased, the site charged a small fee, akin to a shipping cost, to deliver the purchases. While the site's interface looked benign, the vast majority of transactions involved narcotics, and hit men, firearms, and pornography could also be purchased, according to authorities.
The site was started around June 18, 2011, according to authorities.
Who ran the site?
The site's most recent operator, according to the FBI, was Mr. Ulbricht, who worked under the pseudonym "Dread Pirate Roberts," or "DPR" for short. (Dread Pirate Roberts is a character in the film "The Princess Bride.")
Ulbricht, a graduate of the University of Texas at Dallas, moved to San Francisco in the fall of 2012 and was in transition from a career in physics to work as an investment adviser and entrepreneur, according to his LinkedIn page.
Ulbricht, who is in his late 20s, assumed control of Silk Road in early 2012, according to the criminal complaint.
---