Snowstorm gone, 'polar vortex' brings deep, deep chill to US
(Read article summary)
The US is shivering beneath temperatures 15 to 20 degrees below normal for this time of year, with some areas bracing for a minus-50 or worse wind chill factor. Packers may play coldest game ever at Lambeau.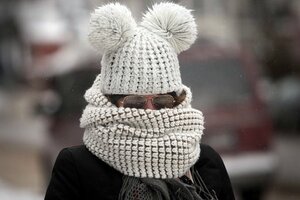 John Hart/Wisconsin State Journal/AP
With winter storm Hercules all cleared out – the storm left 16 dead, creating deep drifts across northern reaches of the country – a nose-freezing cold front has begun to dominate the mainland US, as Arctic air plunges temperatures to dozens of degrees below normal in places like Atlanta, Fargo, N.D., and even legendary ice box Green Bay, Wisconsin
The deep freeze could break decades-old records in some parts of the country, meaning that many Americans below middle age may never have witnessed, or stood in, such cold.
"All the ingredients are there for a near-record or historic cold outbreak," Weather Bell meteorologist Ryan Maue told the Associated Press. "If you're under 40 [years old], you've not seen this stuff before."
Chicago is expecting the kind of low temperatures the city hasn't seen in decades, raising hypothermia fears. The charge of cold air will reach south as far as north Florida, and Atlanta highs will likely freeze stuck at 25 degrees on Tuesday. Even New Englanders used to bundling up are feeling their eyelashes start to freeze. Some parts of the country could see wind chills well south of minus-50 degrees Fahrenheit.
After making news for barely selling out its playoff game against the San Francisco 49ers, the Green Bay Packers are all set to host a home game played at a projected minus-8 degrees Fahrenheit, an estimated point at which beards freeze.
---