West Virginia chemical spill: More days to come without water
(Read article summary)
As investigators look for the cause and impact of a chemical spill in West Virginia, officials say it's likely to be days before public water supplies are declared safe enough for some 300,000 residents.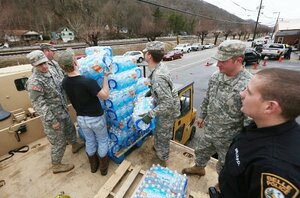 Marcus Constantino/The Daily Mail/AP
Four days after a chemical spill polluted the Elk River in West Virginia, some 300,000 people in nine counties remain without water for drinking, washing, and cooking.
Several dozen people have sought treatment for nausea, rashes, and other symptoms at local hospitals. Businesses and schools remain closed. And state and federal authorities are investigating the cause and continuing impact of the estimated 7,500-gallon spill of the industrial chemical 4-methylcyclohexane methanol.
Officials say it's likely to be days before public water supplies are declared safe enough for anything other than flushing toilets or firefighting.
Governor Earl Ray Tomblin has declared a state of emergency for the nine counties, which includes the state capital of Charleston, the state's largest city. President Obama has issued an emergency declaration.
With help from the West Virginia Army National Guard, the Federal Emergency Management Agency (FEMA) sent 75 tractor trailers full of bottled water to the area impacted by the spill.
"As of Saturday, FEMA has delivered approximately 1 million liters of water from its distribution centers in Cumberland and Frederick, Maryland, to the area for use by the state," the agency said. "FEMA will continue to deliver supplies to the state for distribution, as needed."
Once the spill was detected and contained, it became a matter of time before the chemical in the river became diluted and was flushed downstream. Once the chemical level meets the 1 part per million requirement set by the federal Centers for Disease Control and Prevention, authorities will begin lifting the ban on tap water.
Hardest hit have been restaurants and other businesses serving local residents and visitors to the Charleston area.
---