Bhutto's rise carved path for Pakistani women
But analysts say the slain leader was adept at transcending the politics of gender.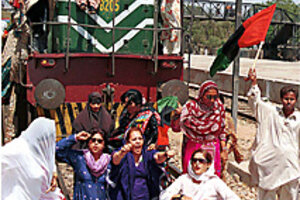 Zia Mazhar/AP/FILE
When Tourism Minister Nilofer Bakhtiar came under attack from hard-line clerics after she was photographed embracing a man in public, Benazir Bhutto was quick to defend her.
"Benazir and I grew close when she issued a strong statement from Dubai in my favor. Her words were very encouraging because at that time, even my own party was not giving me any support and was, instead, asking for me to step down."
Ms. Bakhtiar eventually kept her position in the government but the controversy that stemmed from the May 2007 photo and an ensuing fatwa from fundamentalist clerics illustrates the ongoing struggle for many Pakistani women, especially for those who step beyond traditional roles to lead public lives.
It was a tension that followed Ms. Bhutto's career to the very end as an influential figure who broke the gender barrier here to become prime minister and along the way inspired a generation of female Pakistani leaders.
When Bakhtiar was just starting out in politics, Bakhtiar remembers how she "used to look up to Bhutto as the only strong female leader in Pakistan."
But now the tourism minister, who was previously president of the women's wing of the Pakistan Muslim League, Quaid-e-Azam, which opposes Bhutto's Pakistan People's Party (PPP), worries that middle-class women who may have been considering careers in politics will think twice before signing up.
---