As oil passes $100, the question: will it stop?
If the global economy slows, oil prices will fall. But probably not until after March.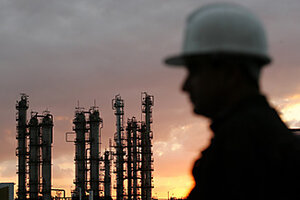 Claudia Daut/REuters
Oil futures hit a record $100 a barrel in futures trading this week, after attacks in Nigeria, Africa's leading oil producer. But most analysts expect that prices will decline from the current spike. A Reuters poll of 37 energy analysts' expectations yielded an average prediction of $74 a barrel for this year, compared with about $70 a barrel this past year.
If the global economy slows as expected, that will reduce demand for oil. But analysts warn that given the cold winter in the Northern Hemisphere, prices won't decline substantially until March. If the consensus is correct, that should mean steep declines in the last half of 2008. To get an average of $74 per barrel, current prices will need to fall to about $60. There are some dissenters. The investment firm Goldman Sachs, which correctly predicted $100 a barrel, recently raised its average price estimate for 2008 to $95 a barrel, reports staff writer Dan Murphy.
What should we watch to see if prices will go higher?
Basic economics and politics will determine the direction of prices. On the economic side, many economists are expecting global growth to slow and that would reduce demand for oil. But if the US and European economies continue to chug along, and China and India appear set to post double-digit growth rates again, those could be signals that prices will remain high.
---