Israel steps up warnings to Bush on Iran
The Israeli-Palestinian conflict will not be the only issue on his visit to Israel.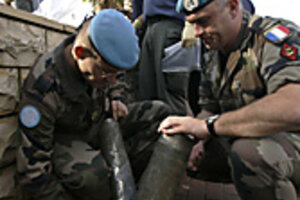 Ariel Schalit/AP
President Bush arrives here Wednesday to propel forward the Israeli-Palestinian peace process. But Israeli leaders seem more interested in focusing on Iran's nuclear program.
Several senior Israeli officials, analysts, and military experts have been increasingly vocal about concerns that the recent National Intelligence Estimate report, which said Iran halted a secret nuclear arms program in 2003, takes the pressure off Iran and will spur them toward nuclear military capability.
Some here have said the NIE has put Israel on the defensive, making it feel isolated in its assessment of the threat. That could prompt Israel to act unilaterally against Iran, analysts say, a move that would certainly be resisted by Washington. Still, Mr. Bush has indicated that Iran is a key issue as he visits the region.
The president's Middle East trip comes at a moment when Tehran has returned to the diplomatic spotlight. On Tuesday, two Katyusha rockets, which Israel believes are supplied by Iran, that were fired from Lebanon hit Israel. It's unclear, however, who shot the rockets, but Katyushas are the weapon of choice for Iranian-backed Hizbullah against Israel.
---