Antarctica's required course is the Happy Camper School of survival
Do not go untrained into the 24-hour summer light.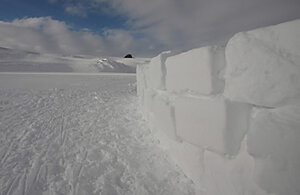 Douglas Fox
McMurdo Station, Antarctica
I nearly decapitate Ed as I heave a shovelful of snow over my shoulder. "Sorry," I say – again.
We're standing in a hole barely big enough for both of us, digging a snow cave called a quinzie, sort of a sunken igloo. We hope to sleep in this thing – but things don't look good: Four feet down we've hit a layer of compacted snow that repels shovels like Kevlar. This isn't the way you expect to spend one of your first nights in Antarctica, but here we are on a swath of ice the size of Rhode Island, learning to survive without so much as a tent for shelter. They call it Happy Camper School: a rite of passage for new arrivals at nearby McMurdo Station, the American research base on Antarctica's Ross Island.
A thousand souls populate McMurdo during the Austral summer from November to February – not just scientists, but also pilots, plumbers, burger flippers, and everyone else needed to keep a small city ticking. Down here, even a job like plumbing can transform into a survival epic in the blink of an eye. Just a few days before our mid-November class, a caterpillar-tracked truck caught fire while traveling on the sea ice. The passengers escaped the flames, but were stranded without shelter 15 miles from town. It's no wonder that anyone whose job might take them away from McMurdo must first attend Happy Camper School, a hands-on exercise in surviving overnight in one of the harshest spots on Earth.
---