An Israeli and a Gazan blog for peace
Two men build a friendship in cyberspace, bridging a violent divide between them.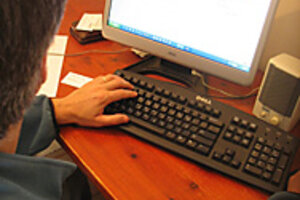 Joshua Mitnick
It's a friendship that spans the poles of the Israeli-Palestinian war zone – this southern Israeli border town and a Gaza refugee camp about 10 miles away.
The two men have not seen each other in about a year. But they are now reunited in the blogosphere, writing a joint diary to stave off their own despair and prove that a dialogue is still possible across the divide.
Titled, "Life must go on in Gaza and Sderot," the pair rants in (uneven) English about the seeming futility about the Hamas-Israeli hostilities, the daily stress of surviving the violence, and the loneliness of optimists.
"Peace man," an unemployed bachelor who resides in Gaza's Sajaiya refugee camp, blogs between Gaza's power outages and complains of insomnia from the constant overflights of Israeli attack helicopters.
"Hope man," a software programmer whose Sderot house has been buffeted on all sides by Qassam rockets, worries about being away from his kids – who are at school – when the next rockets fall.
"We decided we wanted to come out to the world, and to show that there other types of relationships between Palestinians in Gaza and Israelis in Sderot, not only rockets and violence," says the Sderot blogger. "Even though things are really awful, it's to show there can be a true connection."
On Wednesday, under pressure from US Secretary of State Condoleezza Rice, Palestinian President Mahmoud Abbas announced he would resume talks with Israel after a suspension earlier this week in protest over the killing of more than 100 Palestinians in Gaza.
---