In Spain's elections, Socialists win with liberal appeal
Prime Minister Zapatero's party is likely to build on the sweeping reforms of the last four years, which have riled conservatives and the Roman Catholic church.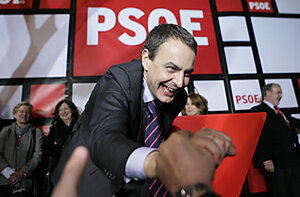 Bernat Armangue/AP
Aided by a near-record turnout, José Luis Rodríguez Zapatero and the Socialist Party won the Spanish national elections – suggesting further changes toward diversity in a young democracy whose older generations cut their teeth on the Franco dictatorship and the moral authority of the Roman Catholic church.
The Socialist victory suggests Mr. Zapatero's party has broken out of the longtime secondary status it has labored under, despite winning the last election in 2004.
Now, say analysts, the Socialists' more liberal appeal to young people, women, and immigrants – along with its contemporary style of campaigning – must be taken seriously by the conservative Popular Party (PP), which ran on an older message of Spanish traditionalism and antipathy toward the feisty Basque and Catalonia regions.
"This is a breakout by the Socialists, the maturing of a party," says Jacobo Ponte, a well-known political blogger for MSN in Madrid.
Significantly, as well, the Socialists scored the first-ever majority win by a national party in Catalonia and the Basque area – regions where local parties seeking greater autonomy or independence have long been most influential. The Socialist scores in these two most vibrant economies in Spain – whose capitals are Barcelona and Bilbao – suggest that the party's policies of gradually greater autonomy, much criticized by the Popular Party, may have gained traction.
The victory in influential Catalonia was especially striking, with political commentator Fernando Onega saying in the daily La Vanguardia, "Catalonia has chosen to influence central politics, instead of packing its bags to leave Spain."
---
Follow Stories Like This
Get the Monitor stories you care about delivered to your inbox.