Afghanistan's soaring drug trade hits home
It faces one of the world's fastest rising rates of drug use.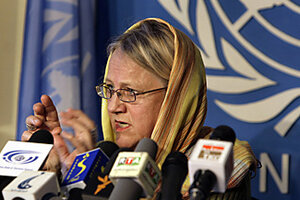 Musadeq Sadeq/AP
Muhammad Nasir lives with 70 drug users on the outskirts of town. His home is an abandoned building sitting amid a mass of toppled concrete. This field of rubble is one of the most dangerous, least visited parts of Kabul – police say two people were killed here just weeks ago. Inside what used to be a Russian cinema house, Mr. Nasir and others sleep in flour sacks and smoke.
"I use a gram of opium a day. I don't have the money to get new clothes so that I can get a job," says Nasir, pointing to his filthy tunic and torn sandals.
Afghanistan's notorious, soaring drug trade is hitting home. The country now has one of the world's sharpest rising rates of drug use, especially in the cities. With few antidrug programs – and many of those poorly funded – aid agencies say drug abuse is now the fastest-growing social problem in the country.
There are twice as many heroin users on the streets of Kabul than just four years ago, says Mohammed Zafar, an official at the Ministry of Counter Narcotics.
The opium capital of the world, Afghanistan is responsible for 92 percent of global output. Each year, the country produces about $4 billion worth, or 53 percent of gross domestic product, making drug production easily Afghanistan's most lucrative industry, according to the United Nations Office on Drugs and Crime (UNODC).
About 1 million of Afghanistan's 34 million people are drug users, and the majority of these live in the country's principal cities, UNODC estimates.
"When people cultivate poppies, they don't wash their hands, and they feed their children with these hands," says Zalmai Afzari, spokesperson for the Afghan Ministry of Counter Narcotics.
---