Reporters on the Job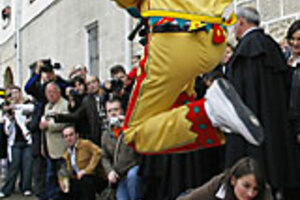 Israel L. Murillo/AP
• Is This China? Staff writer Peter Ford says that reporting from the Sichuan earthquake zone soon after the disaster struck was "like working in another country from the China I have been living in for the past two years.
"I went wherever I liked, and nobody stopped me," he says. "I asked to see local government officials and they talked to me – rather than asking for questions in triplicate three weeks in advance, their normal practice. A spokesman for the Chengdu fire brigade talked to me inside a police line outside a collapsed hospital where only firemen were meant to be."
The word had clearly come down from on high that foreign journalists were to be assisted rather than obstructed, Peter says. "But I think that in the face of such stark life and death situations, even local officials who live by petty regulations saw how petty they are, and worked according to reality instead of according to the rules."
– David Clark Scott
World editor
This Week's Look Ahead
---