As Olympic glow fades, Athens questions $15 billion cost
Many venues stand empty four years after Greece hosted the summer Games.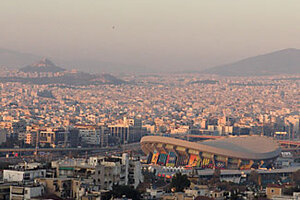 Zumapress/newscom/file
Sprinklers still keep the grass at Greece's Olympic softball stadium green. But four years after the 2004 Games, it sits unused in the middle of a vast, empty parking lot, patrolled by police vehicles.
As Beijing gears up for the most expensive Olympics in history – in the neighborhood of $40 billion – Athens is looking back at the legacy of its Games. The smallest country ever to host the modern event, Greece was proud to have pulled it off despite widespread skepticism. But while the event gave a morale boost to the Olympics' birthplace, many say Athens has failed to translate that into lasting momentum for modernization.
"I think that during the Olympics there was a good feeling," says Andreas Efthimiou, the deputy mayor of the Athens suburb where the Faliro Bay Olympic Complex is located. "But after the Olympics, I see that nothing has been done, we have lost the chance to change the face of the city."
Many of the venues are still vacant four years later, promised parks never materialized, and new transportation infrastructure has caused problems like flooding and increased traffic, says Mr. Efthimiou. Citizens question the event's $15 billion price tag – most of it paid for by the state.
"They've abandoned the development," says a dismayed Stelious Thanelas, a pensioner who lives near the Faliro facility. "I used to think [the Olympics] were worth it. Now I don't. The venues aren't being used and nothing has been done."
---